Dogs Available

(Dogs will go to approved homes only)

PLEASE NOTE
Over the past year, we have been placing basset and bloodhounds in homes just as soon as we have taken them into our Rescue, before they ever make it onto our web site. We have people waiting to adopt and we have just needed to match them with the right dog for their home. If you would like to be considered for one of these dogs, please get on our Waiting List. Send us an email at wybassetrescue@gmail.com or fill out our adoption application and we will get the process going!

| | |
| --- | --- |
| Have you been considering adopting, but just aren't sure. How about trying fostering? You can find out if a basset or bloodhound is the right breed for you and play a very important role in helping them finding their forever home. Please consider fostering. | |
---
Archie
This is Archibald, the newest arrival to WBHR, on September 25th. Archie came to us, via an area vet clinic, as an unclaimed stray, so we picked a name for him. The vet clinic tried for over a week to find his family before contacting us, but no one recognized him or came forward to claim him. He didn't have a collar with tags or a microchip to help in the efforts either. The vet clinic guesses Archie to be around 8 years old. Archie has now been neutered, brought current on his vaccinations and even had his teeth cleaned. We also had a microchip implanted for help with any possible future escapes! Archie weighs close to 50 pounds, is great with little kids and other dogs. He is housetrained and hasn't had a single accident at his foster home. Archie lets his foster family know when he needs to go outside. He sleeps well and eats well and loves attention, plus his morning biscuit! If you would like more information please contact Holly at (307)272-8089 or email at
wybassetrescue@gmail.com
or click here to for our
adoption application
.
---
Howie
Howie is in our "Forever Friend Foster" program. To learn more about this program click here.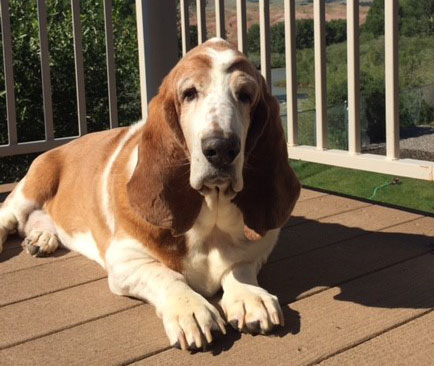 Howie came into WBHR as an unclaimed stray from Casper. He and a companion dog were found wandering on Casper Mountain around July 3, 2017. They had obviously been dumped. After spending a week at Metro to be claimed, he was not, so Howie came to us. He was in need of veterinarian care, as his eyes were infected and he had lumps. Two of the lumps indicated he had lymphoma and a week later, samples from the lumps were confirmed he has lymphoma. Howie, who is guessed to be around 8 years old, will spend his remaining days with his Forever Foster home, being showered with love and the attention he so deserves. He is very fortunate to have his Forever Foster home and WBHR is fortunate for them as well. If you would like to know more about the Forever Friend Foster Program, please
click here.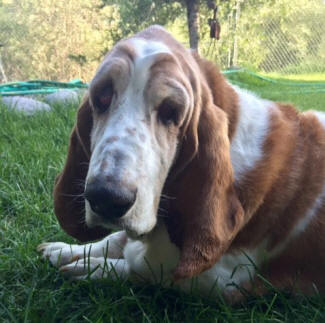 ---
Bronco
Bronco is in our "Forever Friend Foster" program. To learn more about this program click here.


Bronco is a Forever Foster. He came into WBHR on August 18, 2016 as an owner relinquishment. They stated he wasn't housetrained and therefore they kept him outside. They also thought he had an abscessed tooth, as he had a lump on his muzzle, towards the front of his mouth. So we took him to the vet, got him neutered, got him all his vaccinations, got him microchipped and got his teeth cleaned. Come to find out, Bronco didn't have an abscessed tooth, but an oral tumor. We had x-rays done and a biopsy sent to CSU to confirm his diagnosis. He has cancer. He's not even 2 years old yet. Bronco's vet bills have already amounted to over $1,100. He currently is feeling great and has become part of his foster family. Bronco is housetrained and has never had an accident since arriving at his foster home. You wouldn't even know he has cancer by how he acts. He acts like a normal dog at this point. If you'd like to help Bronco, please consider making a donation to WBHR for him. He will continue to be monitored and live out his life with his foster family. If you want to know more about our "Forever Friend" program, please
click here
.
---
Stella
Stella is in our "Forever Friend Foster" program. To learn more about this program click here.

I am SO happy to have a new home and what I'm told is my forever home! I'm Stella and I came into WBHR at the end of September, 2015 as a "Forever Friend". The family who relinquished me stated me to be 14 years old, but the doctor I saw thought more around 9 or 10 years old. I feel so much better, as my teeth and ears were in really rough shape. I lost 37 of my 42 teeth! They either fell out or the doctor pulled them out. It really hurt for a while, but after medication and time, I feel much better than I did before getting them removed. I'm sort of a small girl they tell me, weighing just about 42 pounds. I am spayed, house trained and current on my vaccinations. I will stay with my current foster home and as a "Forever Friend" in WBHR's system, but I still wanted to tell you my story and let you know that I'm well cared for and happy. I have many friends at the foster home, so I am never lonely either. If you want to know more about our "Forever Friend" program, please
click here.
---
If you are interested in adopting one of these dogs, please contact person listed with the dog. or you may email us at wybassetrescue@gmail.com . Receiving materials from us does not obligate you in any way. We do try to match dog and owner, so you may be on a waiting list until a good match for you comes along. All dogs are or will be neutered, we do not place dogs for breeding purposes. We ask that you keep the dog in a fenced area (Bassets and Blood Hounds like to track scents, and then get lost), provide adequate medical care, and sign an adoption paper at the time of adoption. If the adoption does not work for whatever reason, we do ask that the dog be returned to Basset Rescue and we will place the dog in another home. There will be an adoption fee to be collected at the time of adoption.