Wyoming Basset Hound Rescue is selling
2018 Rescue Calendars!
This year again features beautiful, full color photos of our hounds who were adopted over the past year! If you adopted from us in the past year, your dog is in here! Also included are some hound birthdays throughout the months of the year, and a collection of hound pictures inside the back of the calendar!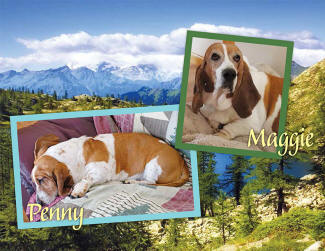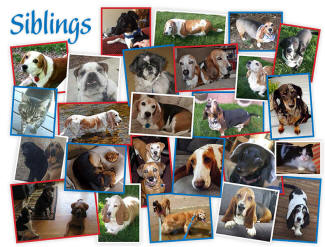 The cost of the calendars is $14.00, plus $2.25 shipping for a total of $16.25.
(Price in cart will include shipping costs. If ordering 4 or more calendars contact Holly for discount shipping.)

Please use the link below to purchase your calendar
or email Holly at wybassetrescue@gmail.com for more information.
---
Quilting for a Cause Raffle!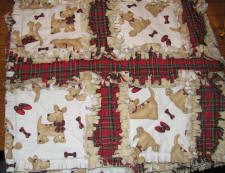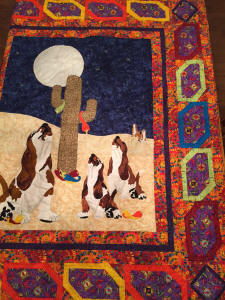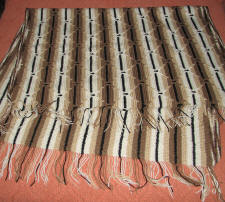 Click on images for larger views

Winner's Choice!
The first three winners, in order of drawing, may choose from a beautiful quilt donated by Martha Knoll, an afghan donated by Janis Finning and a flannel blanket.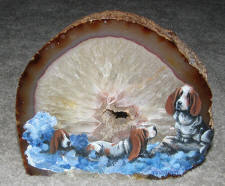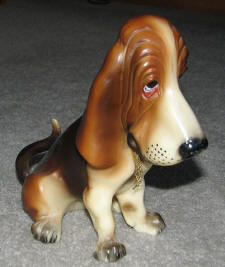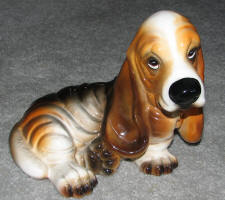 Our three other prizes in the raffle are a basset family painted on a geode courtesy of Jennifer Bouder plus a vintage bloodhound statuette and a basset hound bank donated by Shauna Lumbardy. The geode is 5" tall x 3/4" thick, the vintage basset is 7" tall and 7" nose to tail while the bank is 6 1/2" tall and 7 1/2" wide.

Tickets are $3.00 each, 2 for $5.00, or 5 for $10.00.

To purchase raffle tickets, please use the link below or email Holly at wybassetrescue@gmail.com for more information.

Drawing will be held in September 30, 2017!
---

Wyoming Basset Hound Rescue
T-Shirts
WBHR T-Shirts available in Grey, Cardinal Red, Stone Blue, and
Texas Orange!
Please note: Cardinal Red & Stone Blue have limited sizes available.
Sizes from small through x-large and are $14.75. Sizes 2x-large and 3x-large are 15.75.
We also have youth sizes available for $11 (small 6-8; medium 10-12) in the colors of
Cardinal Red, Indigo Blue & Yellow Haze (limited quantities of Yellow Haze & Indigo Blue available).
Shipping for a t-shirt is $3.50.
Wyoming Basset Hound Rescue logo is on the back. It says "Wyoming Basset Hound Rescue", has paw prints, a basset and also says "Opt to Adopt" on the front.
For questions about any of these fundraisers, please email Holly at wybassetrescue@gmail.com .
---
Adult Sizes (prices include shipping)



| | |
| --- | --- |
| Grey | |
| | |
| Texas Orange | |
| | |
| Cardinal Red | |
| | |

Youth Sizes (prices include shipping)



Indigo Blue
Yellow Haze
Cardinal
Red
---

All proceeds donated to Wyoming Basset Hound Rescue
Read ABOUT ONE OF OUR WONDERFUL SUCCESS STORIES in

:


Memoir of an Abandoned
Basset Hound
"Memoir of an Abandoned Basset Hound" was created after the life of Rocky the Rocket basset hound. He was abandoned by his family in Wyoming and after a failed adoption, he was adopted to his forever home in Montana. His master, Jim, simply adores Rocky and Rocky adores Jim! Jim wrote this book about Rocky and his life into his forever home. The antics and adventures are through the eyes of Rocky.

Rocky's Book is available for a Donation to WBR
(suggested donation - $3.00)
Format: ebook pdf - Length: 199 pages


---
Basset Note Cards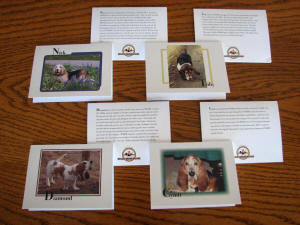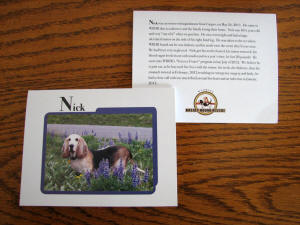 Package A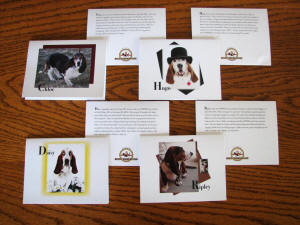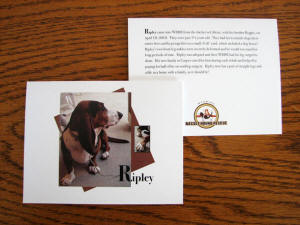 Package B
These beautiful note cards feature a few of our inspiring bassets and their stories. On the front is a photo of one of our rescued bassets and the back has their story. The cards are 5½" wide and 4¼" high and are blank inside.
The cost is $15 a set and that includes shipping charges. There are 12 cards in each package, so three cards of each of the featured bassets! Choose from either package A or package B.
Basset Hound Note Cards


$15/package


(includes shipping cost)
---
Charm Bracelets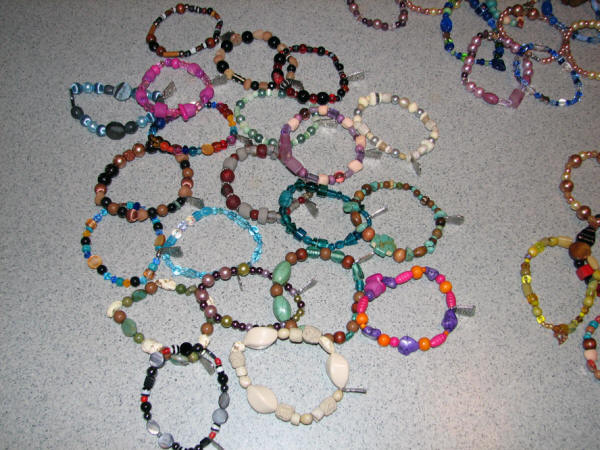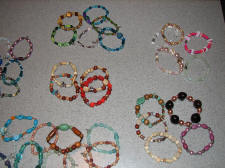 These lovely handcrafted charm bracelets are available with either dog, cat or horse charms and in a variety of colors. Each bracelet is $3 or 2 for $5. Shipping costs vary depending on quantity of bracelets ordered. One, two or three bracelets ship for $2.25 and four, five or six bracelets ship for $4.50. Shipping costs are added into the total price. Order the quantity of bracelets you want and after we receive your order we will contact you about what charms and colors you would like for each bracelet. For questions email Holly at wybassetrescue@gmail.com .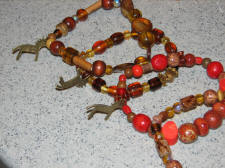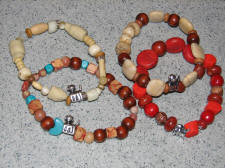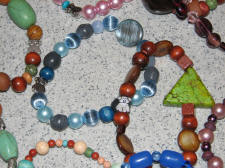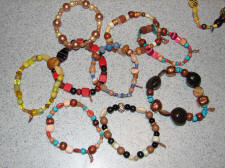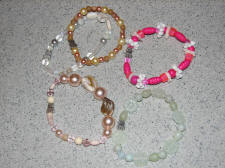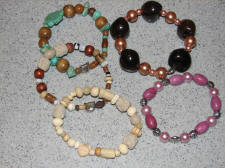 ---
Wyoming Basset Rescue Decals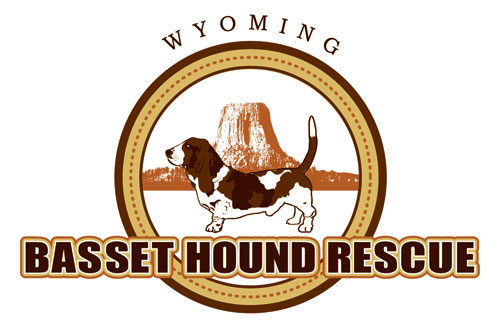 Wyoming Basset Hound Rescue Decals are 4" tall in 6" wide. They are suitable for placement on outside windows and come with instructions to apply them. $6.00 each, which includes shipping.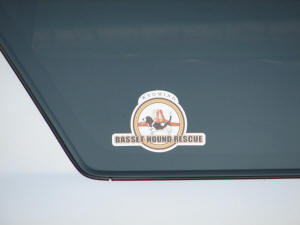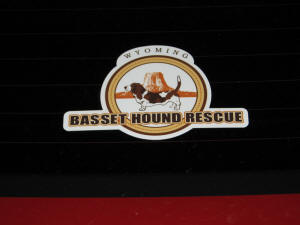 ---
Wyoming Basset Dog Treat Cookbooks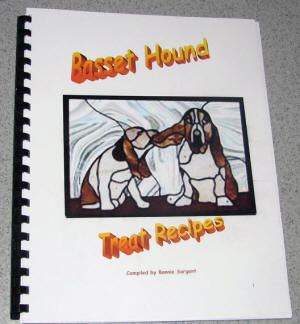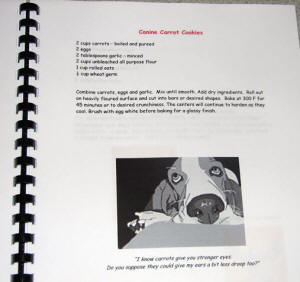 WBHR has doggie-treat cookbooks available. We offer other breeds besides bassets, too! Cookbooks are $20 each and that includes shipping. If you would like a photo of your pet on the front cover and the dog's name, etc., the cost is $23. Please contact us with any question. These cookbooks feature over 40 pages of dog treats you can make for that special "friend"
in your life!


Since each cookbook is custom-made please allow 4 to 6 weeks for shipping.



Basset Hound Dog Treat Cookbook
$20


Basset Hound Personalized Cookbook
with Name - $23

For a cookbook with a photo please order personalized cookbook and email photo to
us at wybassetrescue@gmail.com with note for cookbook.
---
The basset pictured is Mena, who was rescued by an animal sanctuary in Nebraska. The back of each card tells her story to her new, forever home. The pictures above are of the front and inside, right of each card. These are high-quality, 5x7 cards, with a glossy finish on the outside and a mat finish on the inside. The pictures are actual photos of Mena.
The cost of the cards, which includes envelopes, is $1.50 each with and additional $.50 shipping per card for a total of cost of $2 each. For questions, please email Holly at wybassetrescue@gmail.com .
---
Basset Greeting Card - Missing You Design
---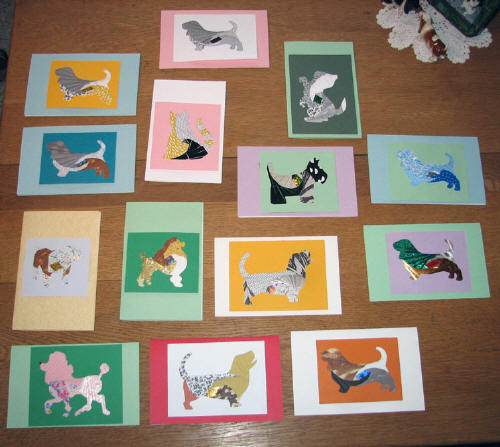 These beautiful cards are decorated with the iris paper folding technique. Each card is blank inside and lined with white card stock.
Designs available include: two Basset designs, two Poodle designs, two Cat designs, a Scottie and a Bull Dog.
The cost of the cards includes envelopes and are available for $3.00 each or 2 for $5.00 with an additional $.75 per card for shipping. For questions, please email Holly at wybassetrescue@gmail.com .

---
Take a Walk for a Dog


Help us by simply walking your dog!
Wyoming Basset Hound Rescue has enrolled with the
"Walk for a Dog" Program.

Click here

to find out how your walks can help us!
Sandra Adams Fund for Emergencies (S.A.F.E.)


A fund set up in memory of basset lover
Sandra Adams to help with emergency needs
of bassets with major health issues.
Click here for more information
---
Donations are greatly needed and appreciated and are tax deductible!

If you would like to donate to us on a monthly basis? Click here
---
THANKS FOR YOUR SUPPORT!!!
---