Take a Walk for a Dog
Help us by simply walking your dog!

Wyoming Basset Hound Rescue has enrolled with the "Walk for a Dog" Program.

Click here

to find out how your walks can help us!

Wyoming Basset Hound Rescue & Adoption
helps bassets with the devotion that only love can provide.

Bassets in need of help are cared for by an all volunteer group of dedicated people throughout Wyoming. Rescued Bassets are from pounds or shelters, or are lost, abandoned or unwanted by their owners. Our goal is to EVALUATE their disposition, insure that the dogs are in reasonable health and neutered, and then placed into a SUITABLE, LOVING, FOREVER home.

Wyoming Basset Rescue is a 501(c)3 non-profit, volunteer group.
Qualified homes and foster homes are always in need, as are supplies, donations and volunteers. Can you help us?
---
Sandra Adams Fund for Emergencies (S.A.F.E.)


A fund set up in memory of basset lover
Sandra Adams to help with emergency needs
of bassets with major health issues.
Click here for more information
---

DOGGIE ITEMS FOR SALE
Help us help our bassets!

All proceeds from our fundraisers go to help pay for our rescued bassets expenses!

e-Woof Newsletter
e-Woof is a newsletter that spotlights dogs in Wyoming who face euthanasia within
days unless they are rescued


THE ROCKY REPORT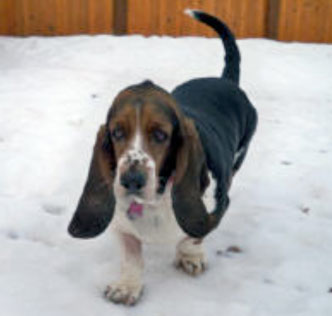 An adoption success story!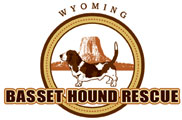 Wyoming Basset Rescue
PO Box 2131
Cody, WY 82414
Donations are greatly
needed and appreciated and are tax deductible!

If you would like to donate to us on a monthly basis?
Click here
---
Vote for us on the
The
Animal Rescue Site Shelter Challenge
We could win a $1000!

10-50% of your purchase goes
to help Wyoming Basset Rescue, just indicate our name
in the message section when checking out