Better than a Bed and Breakfast!
When visiting the Worland area, break from tradition and enjoy the pleasure of a quiet retreat at an unique country guest house. You'll find yourself transported back in time by the warm atmosphere with the simple country decor and quaint family memorabilia.
Enjoy the privacy of this two story refurbished Adobe Home built in the 1930's. Read, relax, write, or ponder in the solitude of the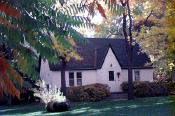 evergreen bordered grounds, in the beautiful Big Horn Basin of Wyoming. This charming home is located 3 miles south of Worland on one acre of forested land, only ½ mile from the local airport and the municipal golf course.
Combined with this rural solitude are the many area attractions that can be made with easy day trips from Worland. Spend an afternoon in the pools at Hot Springs State Park in Thermopolis. Experience authentic cowboy towns like Ten Sleep while winding through the beautiful Big Horn Mountains with its gorgeous views and opportunities for hiking, fishing or skiing. Travel to Cody to visit the renown Buffalo Bill Museum and relive the history of the "Old West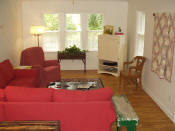 and the Plains Indians." Or golf next door at the Worland Municipal Golf Course where tee times are scheduled around you.
HERZBERG HIDEAWAY - Off the beaten path.